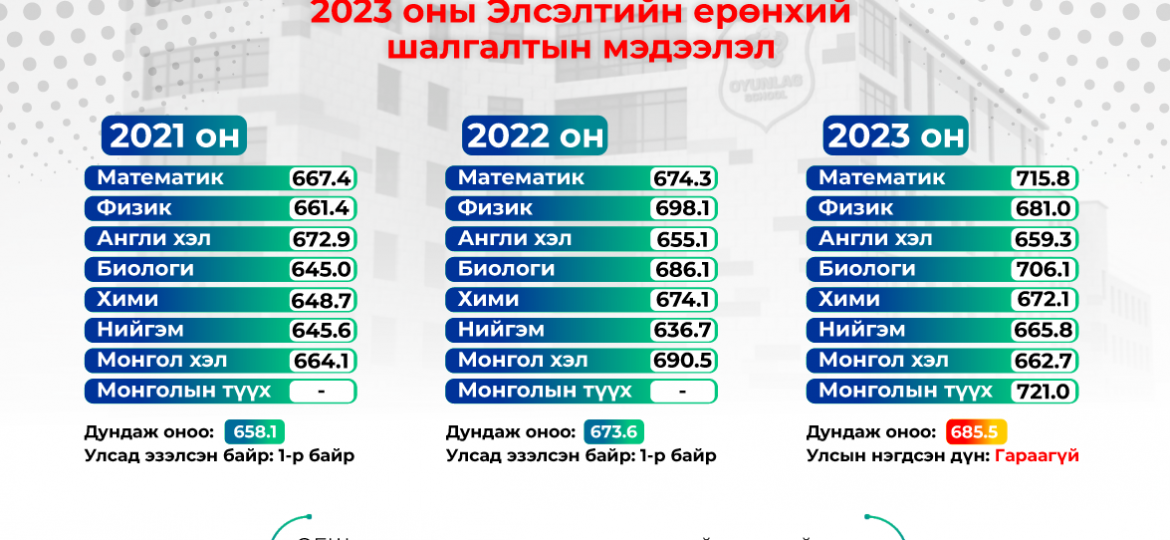 Analyzing the information sent by the Ministry of Education, Culture, Sports, Science and Technology to the districts and provinces, the average score of Oyuunlag School has increased by 6.5% from the previous year, and the average score has also increased by 11.9 points from the previous year.
In 2021 and 2022, it was ranked No. 1 among more than 800 secondary schools in the country, improving its average score in 2023. At the moment, the overall score of each school has not been released nationwide. However, it has become clear that Oounlag School won 1st place in Mathematics, 1st place in Physics, 2nd place in Biology and Social Studies, and 3rd place in Chemistry. is
The students of Oyuunlag School took the general entrance exam in 8 main subjects, including mathematics, English, physics, chemistry, biology, Mongolian language, Mongolian history, and social studies.
The average score of examinees increased from 4.2 to 41.5 points in mathematics, biology, social studies, history, and English subjects.
3 students scored 800 points in mathematics and 1 student in physics. The number of students with scores above 700 is 68, which is an increase of 11.7% compared to 2022.
In accordance with the procedure for equating international exam scores with IEP scores, 42 students met the threshold of 800 points, 20 students met the threshold of 749 points, and 15 students met the threshold of 699 points.
In the coming days, our 12th grade graduates evaluated their knowledge and skills in the subjects they studied with interest in secondary school.